Choosing a rug can be a long process because it's generally a statement piece that brings color and character to a room. So when the rug starts to show wear or an unfortunate event leaves it damaged, rug repair enables you to restore your rug to its original beauty.
Professional rug care makes it possible for you to liven up the décor within your home without having to go through the rug shopping experience again. And, if you have an heirloom rug, it can help elongate the life of the rug and preserve the memories of loved ones and family get-togethers.
Here's a detailed look at rug repair and what you can expect from our team of technicians.
Can All Rugs Be Repaired?
We can repair a wide variety of rugs from handmade oriental rugs to machine-made hooked rugs. Your rug does not necessarily need to be extremely expensive or fancy for our team to be able to repair holes, add a fringe or fix damage to its weaving.
The following is a list of some common rugs that our team can repair.
Navajo rugs
Hooked rugs
Dhurries
Zapotec rugs
Couristan rugs
Braided rugs
Karastan rugs
Custom-made rugs
Belgian wool rugs
The best way to know whether or not your rug is worth repairing is to discuss the matter with a professional rug repair company. You should contact a rug maintenance company when you are near the rug so you can provide information from the tag or label to help in the evaluation of your rug's needs.
Rug Repair Services and Terms Explained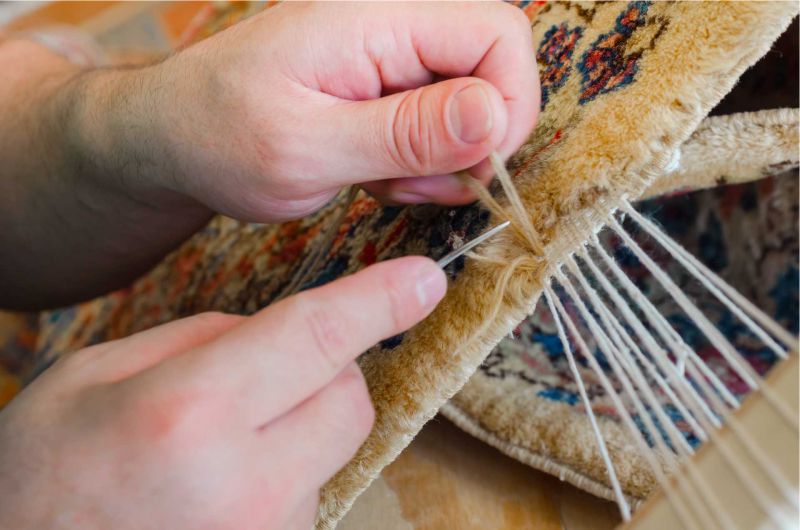 Depending on your rug's damage, you might discuss a variety of rug repair services with your rug care company. At first, some of these terms might sound foreign and confusing to you. We'll break down the various types of work that we can complete for your rug and how it makes your rug look great.
1. End Work
The edges of your rug might not seem all that important until something happens to your rug and you realize how much they bring the whole rug together. From rugs that are unraveling to adding a fringe to your rug, we can beautify your rug from edge to edge.
Hand overcast is a process where we unravel your rug past the damaged area of the pile. Then, we insert an interior hand stitch to firm up your rug's foundation and ensure the damage doesn't spread any further to your rug.
If your fringe is worn out or uneven from wear, we can replicate your original fringe by making a handmade fringe. This is where we reinsert warps into your rug's foundation that replicate your rug's original fringe.
If your rug is unraveling, hand-sewing a pre-woven fringe can help stop the process and make your rug look great again. Our team hand-sows a fringe to the end of your rug. We can do this for one end or all sides of the rug. And if you want to restore the rug to its original state later, you can remove this hand-sewn fringe easily.
2. Side Work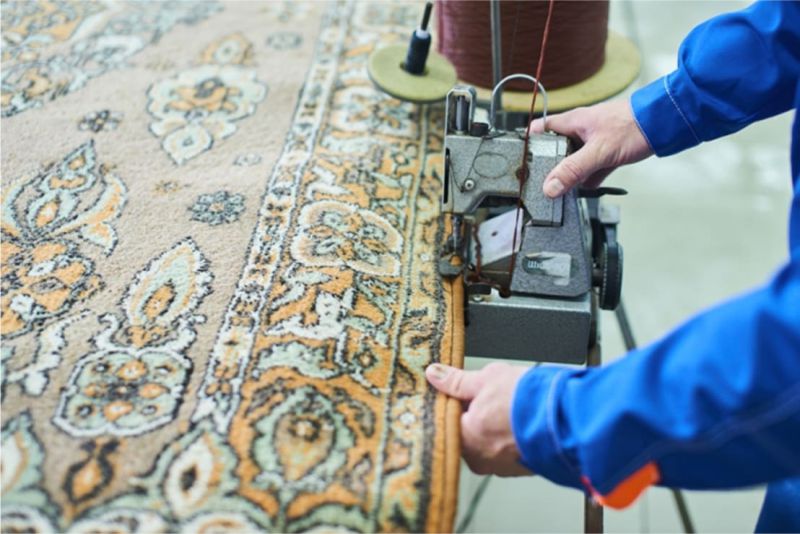 In addition to restoring or adding a fringe, our team can repair the side work of rugs that do not have a fringe. This might include hand or machine serging. This binds the edges of your rug to protect it from unraveling. We recommend hand serging hand-made rugs as this preserves their original beauty. Machine serging is generally a temporary fix as it does not preserve the hand-made artistry of such rugs.
If you've cut or trimmed a rug to fit a specific area, adding a cloth binding can prevent the rug from fraying with use. Always contact rug professionals before altering a rug as there is an art to resizing your rug.
3. Repairing Holes and Tears
When a rug suffers from a hole or tear, you do not automatically have to stop using the rug. You do have options to restore the rug's beauty and functionality. Each option has its benefits.
You can patch a hole on a rug using a similar design. While this is a faster and generally less expensive fix, it won't match perfectly. You'll likely be able to tell where the patch was. However, your rug will be functional and look nearly new.
After a tear or a hole in a rug, the best way to repair it is hand re-weaving. While this is labor-intensive, it uses similar wool, cotton or silk materials to make your rug look as good as new. Many rugs that have been hand re-woven are impossible to spot where it was repaired unless you're a rug maintenance professional.
4. Other Rug Maintenance and Repair Services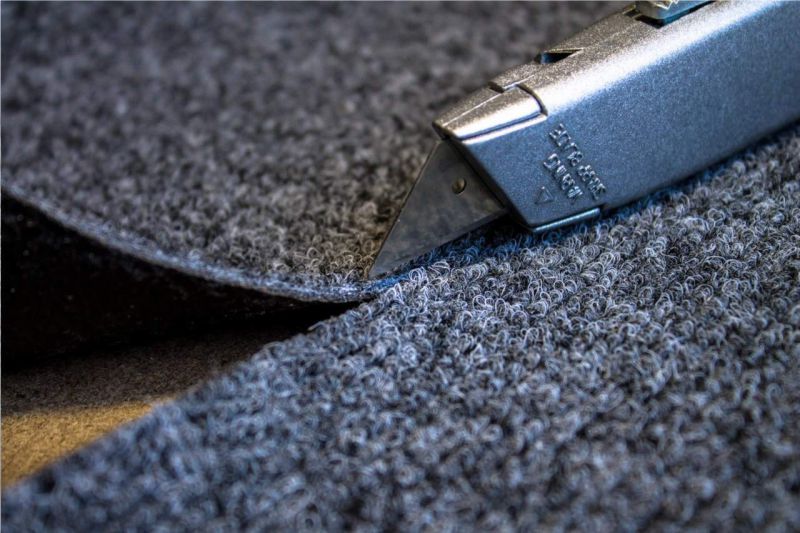 In addition to repairing a rug, you might have other rug maintenance needs that require a professional rug maintenance and cleaning company. For example, if you're altering the rug in some way, such as cutting it to fit within a room, you should contact professionals. Believe it or not, rug professionals can help you put multiple rugs together to fit odd or awkward spaces without obvious seams or strange-looking transitions between the rugs.
Additionally, rug repair specialists can de-curl the edges of your rug to make it more beautiful and functional. That way, you don't have to keep trying to place heavy objects on the corners of your rugs to flatten them out.
Spot dying a rug can help hide pesky stains that neither you nor a professional rug cleaning company can remove. By dying the rug, you can make the stain blend back in with the original design of the rug. Or, using heat-seaming, you can also remove dye from a rug to alter its look.
You can preserve your heirloom rug by displaying it on a wall instead of using it on the floor.
Professional rug cleaning and maintenance companies can add Velcro to your rug so that you can easily hang it without damaging it in any way.
Tea-washing can alter the color of your rug's fringe naturally. And, because it's natural, the tea can be removed to restore the rug's original fringe color if you choose to do so later. This can help your fringe stand out more or match the décor colors within a room. Because tea is a natural substance, it won't harm your rug in any way and is a reversible process.
Hiring a Rug Repair Company
Finding a rug repair company with extensive experience is crucial. In many cases, people are entrusting their heirlooms or the centerpiece of their home to these professionals. Make sure you choose carefully when seeking these specialists.
Some companies only provide the maintenance and repair you request, while others go the extra mile to evaluate the health of the entire rug and complete preventative maintenance. For a true partner in your rug repair and maintenance, contact A Advanced Rug Care. We're the trusted rug care team in Everett, Washington, offering premier customer service.
Further reading: