An area rug can really liven up a room and pull your décor together. But finding the best rugs for living rooms is challenging. Because a rug is such a focal point in a room, read up on some important questions you should ask yourself before selecting your rug of choice.
We'll guide you through some key considerations to make rug shopping simple and ensure you get the best option for making your home look great to create a comforting aesthetic for both you and your home's visitors. 
Rug Material
Before you get too deep into designs, color palettes and size, consider the rug material that will work best for your space. 
The most important thing to consider when evaluating rug materials is the amount of traffic in the room where you're placing the rug. Some areas get more traffic than others.
The best rugs for living rooms are durable rugs. While a living room doesn't get the kind of traffic that a foyer or hallway get, it is a popular place in a home. You'll spend tons of time in your living room during get-togethers and for quiet nights at home.
You'll want to get a rug that withstands heavy traffic while still looking great. Generally, a wool or wool-blend rug is the best material for a living room. 
Wool tends to be stain resistant, which is important since many people eat and drink in their living room while watching television or socializing. While you'll certainly be careful around your new rug, accidents will still happen. Keeping stain resistance in mind will help you keep the space looking great for many years.
Another factor in selecting rug material is how noisy a room is. A thicker rug with some shag will help dampen noise. Some split-level homes have unique arrangements in what's below the living room. 
If you have another living space or bedroom below your living room and would like to dampen the sounds of movement in the room, a thicker rug will serve those purposes well. 
Just note that thicker rugs tend to not work as well for high-traffic areas. That's because dirt and debris can get caught deep in the rug's fibers and look worn quicker than a thinner rug with less shag.
Home Occupants
Pause for a moment and consider your home's occupants. If you have anyone in your home with reduced mobility, be sure you select a low-pile rug.
Low-pile rugs reduce tripping hazards in your home. These are great for homes with young children too as they tend to run from place to place without considering tripping hazards or changes in the floor's surface.
Homes with children are often best to outfit with a cotton rug. These rugs are easier to clean, soft and durable. If you're really going for serious durability and simple cleaning, consider an indoor/outdoor polypropylene rug.
An indoor/outdoor rug repels water to prevent spills from soaking in. You can wipe off spills with a sponge or rag. And before you start to think that your living room rug will look like it belongs on your patio, rest assured that advances in design have enabled these rugs to still look great in any space.
Once your children grow up, you can always replace the rug with something a bit fancier or with a more intricate design. But while you're worried about spills or tracking muddy feet indoors, go with the practical living room rug option of an indoor/outdoor rug.
Seating Area Arrangement
Now that you've made it through some of the nitty-gritty details about selecting rug materials and durability, you're ready to start considering rug size and shape. The best way to do that is to consider your seating areas.
If your seating area is square-shaped, select a square rug. If it's rectangular, go with a rectangular rug. 
Next, you'll want to decide how you'll place your furniture on the rug. For smaller rooms, you probably want all four legs of the chairs or corners of the sofa to be on the rug. In larger rooms, you might only put the two front legs or corners on the rug.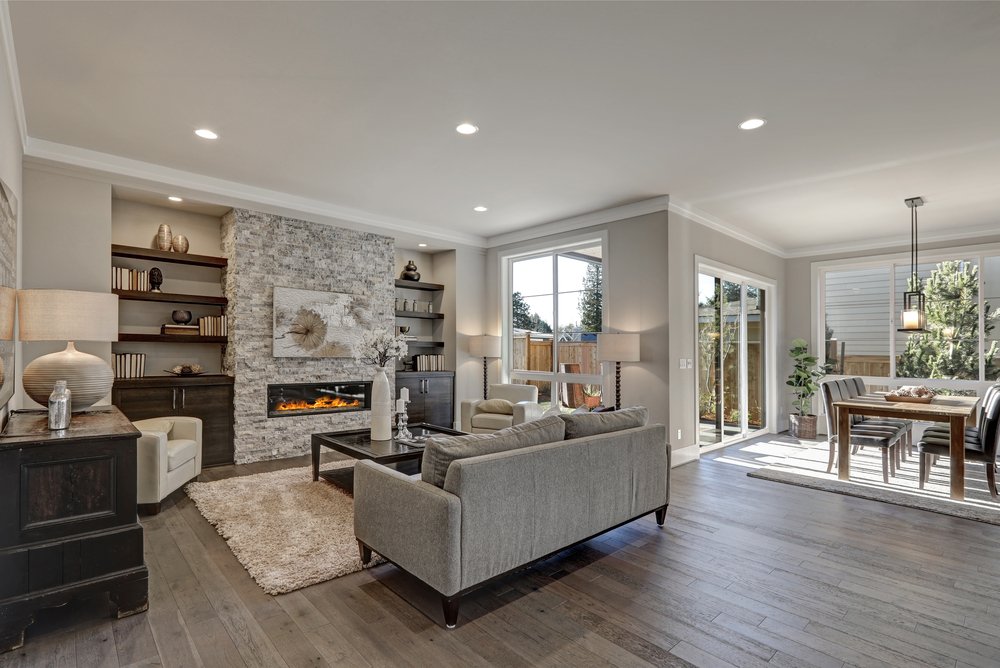 Round and oval rugs are challenging to make look nice in a living room. These shapes of rugs are better served for bedrooms where there are fewer furniture pieces to consider when placing the rug.
For extremely unique living rooms, you might need to customize a rug. Some living room sizes don't fit with the rug sizes available in stores. You'll get a rug that is unique to you and perfectly designed for your living room. 
Review Your Living Room Color Palette
A rug is like a fine work of art in a living room. They add interest and design to the space. But before you get too excited about this new piece of art, take stock of what you already have in the room. 
You want your rug to fit in with the other pieces of furniture in the room. For milder rooms where there is little color and design, you might want to use the rug to bring it all together and add interest to the room. Likewise, in rooms where there are already large statement pieces, it's a good idea to choose a milder rug design and color.
The great part is, rugs come in so many colors and designs, you'll certainly find one that fits your needs based on the design and aesthetic you've already created in your living room. Read our detailed post on how to choose the best color for your rug here.
Review Your Rug Pad Options
Once you've picked out the best rugs for living rooms, you'll want to protect your floors with a rug pad. But if you want to make your rug feel plusher, consider a thicker rug pad.
The most important function that your rug pad serves is ensuring that traffic in the room doesn't create minor scratches to your flooring. As dirt gets trapped in and under your rug, it creates the perfect environment for serious floor damage.
Clean floor or rugs for living ro
We clean rugs, floors, upholstery, etc.
Another purpose that the rug pad serves is minimizing slips and movement of your rug. Without a rug pad, your rug will move around as you walk over the rug and sit down on the furniture. While it might be micro-movements, it will add up. You'd have to re-arrange your furniture back to its original location regularly if you opt to go without a rug pad. 
Finally, a rug pad can add some plush to your rug. This is especially nice if your circumstances have led you to seek out a low-pile rug. Perhaps it's simply what's best for your family but you like the idea of a plusher walking surface.
A rug pad can help provide that plushier surface to make your living room cozier and more enjoyable.
Living Room Rug Maintenance
Once you've gone through the process of selecting the best rug for your living room, you want it to last long term. Regular cleaning and maintenance will ensure that your rug stays vibrant and beautiful for many years to come.
A Advanced Rug Care offers rug cleaning, repair and treatments in Everett, Washington, and the surrounding area. Book your rug cleaning now to preserve this important visual element of your living room.