If you've been taking your rugs to the local dry cleaning shop, you might want to reconsider. While many dry cleaners list pricing for rug cleaning and even advertise that they can clean rugs, there are some dangers to a dry clean rug service.
Every rug is unique and the materials it's made out of should dictate how you clean that rug. Using the wrong process or chemicals on the rug could do permanent damage. Dry cleaners might also use steam cleaning on their rugs, which can be too hot for the dyes in your rugs.
While it's certainly convenient to roll up your rugs and take them with you to the dry cleaners, it might not be what's best for your rug's longevity and beauty depending on the process your dry cleaner uses.
Before your next trip to the dry cleaners with your rugs, learn a bit more about the difference between rug dry cleaning and professional rug cleaning.
Dry Cleaning Chemicals Can Harm Rugs
The term dry cleaning is somewhat misleading because it makes it sound like nothing is applied to the rug. However, there are often chemicals involved in dry cleaning. All cleaning chemicals are not bad for rugs. In fact, chemicals can help ensure no mold or dust mites are left behind from a rug cleaning.
However, other chemicals can harm your rugs or cause discomfort in your home if someone is sensitive to such chemicals.
Ask your dry cleaners what they use to clean rugs. Then take that information and do a little research to see if it's safe for you and your family to have in your home.
Then, check the label on your rug to learn the materials it's made out of. Make sure that those chemicals are safe for your rug. Some chemicals might cause your rug to fade at a more rapid rate or could break down the fibers in your rugs.
While your local dry cleaning shop might be experienced and know how to clean rugs, know that some are not. Take some time to research whether this is a good option for you and your family before proceeding.
Oriental Rugs Require Special Care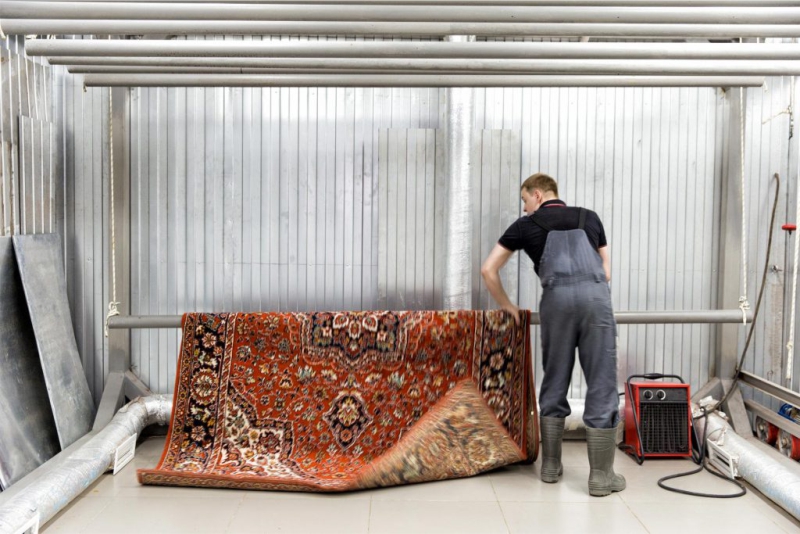 If you're the proud owner of an oriental rug, know that these require special care. The dying and weaving processes are unique in oriental rugs and protecting them means having experts care for these rugs.
Oriental rugs with a fringe take special care as well because the fringe of a rug is generally fragile. There are also different types of fringe and these types require different care. Talk to your local dry cleaning shop to see if they have an oriental rug specialist. If not, it's best to put your rug in the care of experts.
Oriental rugs can be heirlooms passed from generation to generation if properly cared for. Just be aware of your cleaning methods to ensure their long-time use.
Dry Cleaners Can't Repair Rugs
While you might not think you need rug repair, professional rug cleaners inspect rugs in the process of cleaning them. That way, they can spot weaknesses and concerns in the rug before those become a problem.
Dry cleaners are not generally experienced in rug repair, though you might be able to find a specialized shop that has a rug expert. Rug cleaning is about more than just removing dirt and debris. It's also about ensuring the long-term life and beauty of your rug. A rug cleaning specialist can make recommendations on rug maintenance to help you protect and preserve your rugs.
What's the Difference Between a Dry Cleaner and a Rug Cleaner?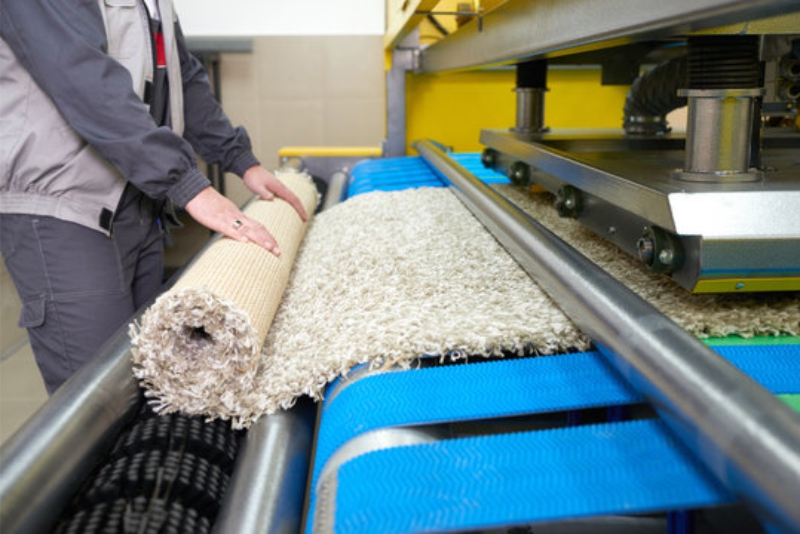 Dry cleaners provide cleaning services for everything from dress shirts to bedding. This is often the preferred method for cleaning instead of machine washing for fabrics that have silk, wool, leather and other fragile materials.
The dry cleaning process uses liquid chemicals but no water to clean the fabrics. As part of the process, a solvent is sprayed onto the article of clothing. Then there's an extraction cycle that removes the excess solvent from the article, almost like a spin cycle does on your washing machine.
Dry cleaning dates back thousands of years, perhaps as early as the year 79. It's certainly not a new process but it is one that's been perfected over the years.
So how does a professional rug cleaner differ? Rug cleaning is more delicate and specialized because it's generally done by hand. Instead of immersing the rug in cleaners or using a production line as dry cleaners do, professional rug cleaners wash each rug by hand. These cleaners use specialized processes based on the rug's materials.
In areas that make oriental rugs, some locals still use original washing methods of cleaning rugs by hand in rivers and laying them out to dry. That's because the dyes and materials are fragile and people know that the sun can kill bacteria within the rugs.
We apply that same care and gentle process to our rug cleaning at A Advanced Rug Care. Our process includes evaluating the rug's construction, fiber types, dyes used and the condition of your rug to create a specialized treatment plan.
Then we go to work ensuring to preserve your rug's beauty while removing harmful dust and dirt from deep down in the rug's fibers. We'll also make sure to kill any bacteria hiding in your rugs to keep your home safe.
What to Look for in a Rug Cleaning Company
Now that you know the difference between dry cleaning rugs and professional rug cleaners, let's take a look at what you should seek in a professional rug cleaning company.
Care and service: look for a company that's easy to work with. If there's too much back and forth to schedule your service or it's too much work to get your rugs cleaned, you're less likely to schedule this important service. Instead, work with a company that has an easy online scheduling system to make it simple to get your rugs cleaned.
Oriental rug expertise: while all rugs are unique, oriental rugs are the most delicate and intricate type. Before entrusting your unique rug to just anyone, make sure you find a rug cleaning company with oriental rug expertise.
Safe chemical usage: not all chemicals are bad when it comes to rug cleaning. Ask your local rug cleaning company what chemicals they use before committing to a rug cleaner. During the cleaning process, most chemicals are removed but if you have any sensitivities in your family, be sure to ask about chemicals before scheduling your rug cleaning.
Rug repair expertise: even if you think you won't need rug repair anytime soon, ask your rug cleaning company about whether or not they offer rug repair. It's nice to know that you have someone you trust just in case something serious happens to your rug.
A rug cleaning company that also cleans carpets, tile and other areas of your home: finding trusted home maintenance professionals can be challenging. If you can, find a rug cleaning company like A Advanced Rug Care that partners with A Advanced Home Care to provide other home cleaning services like carpets and tile. That way, you can schedule your full home cleaning needs at once to simplify the process.
Have questions about A Advanced Rug Cleaning in Everett, Washington? Reach out to us or read our FAQs. We're always here to help you protect your home and preserve your rugs.
Further reading: