Are you looking for an area rug that can withstand messes from kids or pets? This basic guide to natural and synthetic rugs should provide you with the information to find the best rug for you!
What Rug is Best for You?
Once you start looking, you may feel overwhelmed by your seemingly endless options. These questions can help narrow down your search to find the ideal rug for your space:
What is your budget?
Where will the rug be placed in your home?
What size will fit best?
Which material is best?
Are you looking for a patterned or solid rug?
Will this work well with your furniture?
Natural Fibers vs Synthetic Fibers
Rugs are broken down into two main categories, natural and synthetic fibers.
Natural fiber rugs are made from soft and durable plant or animal-based fibers. These fibers are then turned into yarn, which is used to make rugs by hand or machine. They bring texture and warmth to space while serving as a tough, sustainable option for your home.
Synthetic rugs are machine made and highly customizable. Most are treated to repel stains and water, making rug care easy. Synthetic fibers are usually soft and smooth but can sometimes have an artificial feel. Being sold at a much lower price point than natural fiber rugs, they are a popular and affordable option.
Natural Fiber Materials: Wool
Wool is a versatile and durable fiber, allowing for easy dying and long-lasting quality. Due to its naturally dense properties, wool tends to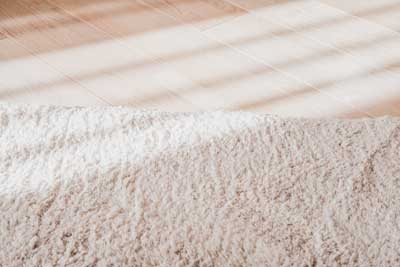 repel liquids, making general rug care easy. If left with a spill, the liquid will eventually soak in, but the material's natural resistance makes them it an awesome option if you have kids, pets, or need a rug for a high traffic area.
Most wool rugs are comfortable on the toes and can be purchased in a flat weave option, which is less likely to have issues with shedding and pilling. The long-lasting nature, durability, and quality of fiber make wool rugs more expensive than most other rugs. Additionally, they must be professionally cleaned, adding to cost over time.
Natural Fiber Materials: Jute & Sisal
Commonly used as a replacement for those with a wool allergy, jute and sisal rugs are durable fibers able to withstand physical wear and tear. However, unlike wool, they are quick to absorb. This aspect makes rug care challenging. Removing stains and properly cleaning without color change, or distortion is not always possible. These are generally not the best option for high traffic areas or for homes with children or pets.
Natural Fiber Materials: Cotton
Another popular natural rug fiber is cotton. Cotton rugs are usually softer and less expensive than their counterparts. A wide variety of colors and designs can be found in cotton rugs, sometimes even being reversible. One of their biggest selling points, especially in a kid or pet household, is that most are machine washable. Despite this, cotton area rugs will break down over time and are only realistic in low traffic areas.
Synthetic Fiber Materials: Olefin
Olefin, a popular synthetic fiber for rugs, offers strength, colorfastness, and comfort. Olefin rugs are soft like wool and resistant to staining, abrasion, mildew, and sunlight. These features make a common outside or high traffic option. Despite these durable qualities, olefin is not known to be a resilient fiber. Therefore, is better used for entryways, hallways, or areas without heavy furniture that could leave marks or abrasions.
Synthetic Fiber Materials: Nylon
Known for their limitless color options and ease of cleaning, nylon rugs are another favored choice for being around kids and pets. Nylon is the hardest of all synthetic fibers, making it extremely resistant to wear and abrasion in high traffic areas. For the most part, these rugs are unaffected by dirt, crumbs, and other messes. Although this is a durable fiber in terms of constant use, it fades easily causing it to be less ideal for the sunniest areas of your home.
Synthetic Fiber Materials: Polyester
Polyester fiber rugs tend to be one of the cheaper options. Despite this, they are known to be the most stain resistant to synthetic choices. Though they easily coming out on top in terms of stain resistance, they don't bounce back as well as nylon does when it comes to compaction, and they don't hold up as well long term.
A variety of things come into play when deciding which area rug material is the best choice for your lifestyle. In terms of long-lasting durability and ease of care in a household with kids and pets, wool and nylon are top choices! Both are tough and stain resistant. Wool usually holds up better in the long run and is more sustainable. However, wool rugs are not always realistic in terms of price or ease of cleaning in the way nylon rugs are. No matter the price point, these two should give you plenty of options to choose from!
Related Articles