Everything has a story, and your future rug is no different. In fact, these rugs have a rich history that is as intricate as the weaves that have intrigued people for thousands of years. These valuable handmade rugs are treasured by their owners for their beautiful patterns.
What is an Oriental Rug?
Let's start with the basics. An Oriental rug is a hand-knotted rug made in Asia or the middle east. Persian rugs are a very popular subcategory within the umbrella of Oriental rugs, made in Iran.
All Oriental rugs are incredibly valuable as they are handmade, taking many hours of painstakingly detailed work. The benefit of Oriental rugs over cheaper options is that they appreciate in value over time. As a result, you get to enjoy a high quality, beautiful rug in your home that builds value over the years. In order to make your rug buying experience easier, let's explore the different types of material options available.
Benefits of Material Types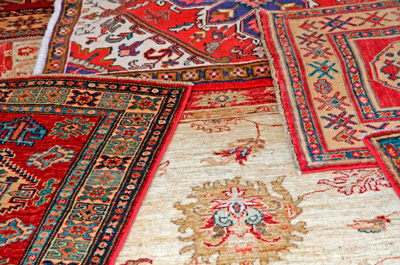 Before setting out on your journey to find the perfect Oriental rug for your home, you'll want to think about the type of material that is going to work best for you, given your lifestyle, activities, and foot traffic in your home.
Wool rugs have a more contemporary look, and due to the structure of the material, are resilient and durable—sustaining their quality for years. This means they will stand up in the long run to heavier foot activity. The fibers don't absorb soil very well, so they're easier to keep clean. Wool rugs also absorb moisture in the air, relieving the area around the rug of humidity.
Silk has been used for thousands of years to create a variety of textiles, including Oriental rugs. The soft feel and subtle sheen that the material emits attracts many people to silk. Because of this reflective quality, silk-made Oriental rugs can look slightly different from different angles, with the lighting bringing out individual tones in the dye.
Elegant and beautiful, silk is considered to be the highest quality material. That being said, it's also more expensive than wool or cotton. If you have your heart set on investing in a silk rug but are intimidated by the price, you can opt for a rug woven from a combination of silk and wool, or silk and cotton.
Oriental Rug Care Tips
Each type of material (wool, silk, and cotton) requires a different type of care. Given the structure, quality of the fabric, and value of an Oriental rug, it's best to opt for professional cleaning. You typically wash an Oriental rug every two-to-three years. If you wait too long to wash it, dust will sink into the fibers, eating away at them. Your rug will eventually start to become bare in places, especially if this dust is combined with a lot of foot traffic.
Here are a couple of tips and best practices for taking care of your rug in between professional cleaning:
Start by placing a rubber pad underneath the rug to maintain its life and quality.
Your rug needs to breathe, just like us! Avoid placing items or furniture on it that cover entire surface areas, like a pot, for example.
This can lead to mildew and rot in that surface area.
Avoid the vacuum. It'll be too aggressive on your rug. If you're looking for some simple upkeep you can do to keep your rug clean in-between visits to a rug cleaner, you can sweep it with a carpet sweeper.
Where to Buy Your Oriental Rug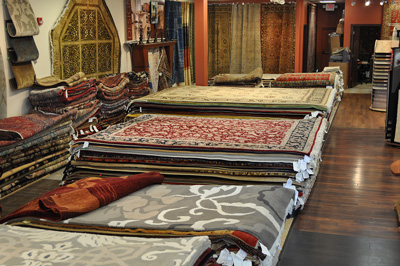 Is this day one of your hunt for the perfect Oriental rug? Look for a rug importer in your area who deals directly with the weaver, if possible, someone who is aware of their product's origins and quality. Ideally, your rug seller should have many years of experience working with Oriental rugs and have an intimate knowledge of how they are constructed and how best they can be taken care of. They will help you find an area rug that is the best fit for your home and lifestyle.
Here are some businesses that sell Oriental rugs in the Puget Sound region to get you started.
When to Hire a Pro Rug Cleaner
Look closely at your Oriental rug and you will see an intricate pattern of knots. These area rugs aren't machine made, and they shouldn't be machine washed, either. Because of the high-quality textiles that go into their construction, they require special care, repair, and maintenance to maintain the integrity of the piece.
A rug professional will have deep knowledge about how the rug was created, how each type of material should be cared for, and offer treatments to not only clean but also protect your area rug. Here at Alexander's Rug Care, we follow an 11-step process to protect your rug and maintain the color and integrity of the original knotting. We hand clean the fringe, dry it in a temperature-controlled room, and offer an inspection by certified technicians.
About Alexander's Rug Care
With over 20 years of experience working in the area rug care business, Alexander's Rug Care is passionate about ensuring that you continue to enjoy your investment in an Oriental rug. We offer rug cleaning, repair, and protection services, and can even pick up your rug at your home. Your rug will be cleaned with specialty area rug cleaning equipment and delivered back in pristine condition to bring beauty to your home for many more years. Consider it a spa day for your rug.
Family owned, we have built our company on the foundation of reputation, experience, education, systems, and a guarantee to bring you our highest level of expertise in cleaning, restoring, and protecting your investment in an area rug.
Looking for a Professional Rug Cleaner?