Most of the time, the weather in Everett, Washington, stays warm enough that we get more rain than we do snow. But a few times a year when it does snow, there are tons of deicing salts on the roads and sidewalks.
And because the area sees so little snow, residents aren't as accustomed to these pavement treatments. As such, we tend to track this pesky material into our home and onto our carpets and rugs.
And it's not the easiest thing to remove from carpets and rugs. That white outline of a shoeprint will haunt you for weeks until your next professional cleaning. But you don't have to let it. Instead, be prepared with these tips for removing salt stains.
Chemical-free Rug Salt Stain Removal
You might be able to remove the salt stain from your carpet with ingredients you already have in your home. You can use the chemical-free stain remover of vinegar and warm water.
In a spray bottle, mix equal parts white vinegar and warm water. While you might not enjoy the smell of the solution, you won't have to worry about it harming your rug fibers or harming children or pets who play on the rug. And, this is a fairly powerful rug cleaning solution.
Spray the solution on the stained area of your rug. Then blot the area with a dry towel. If this doesn't work, you can gently agitate the solution into your rug using your fingers.
You don't want to scrub your rug too hard or use a brush to agitate the affected area. These abrasive measures could result in damage to your rug's fibers. Stirring up the salt might be necessary though if it's deep in your fibers. So just agitate gently and don't rush the process.
Be sure to blot out as much moisture from your rug as possible. You don't want your rug to smell like vinegar long-term or to have conditions where mold can grow.
Repeat this process as many times as is necessary. Just be sure you're being very gentle with your rug so that you don't wear that area down with your scrubbing.
Let the area air dry or place baking soda in the area for 24 hours to pull out any excess moisture. If you have a fan in the room, run the fan to move the air around and eliminate the smell of vinegar.
If you don't have any white vinegar at home and don't want to head back into the winter weather to buy some, you could substitute dish soap. While this isn't quite as powerful of a cleaning solution, it can be beneficial in cleaning the area.
Salt Removing Cleaners for Rugs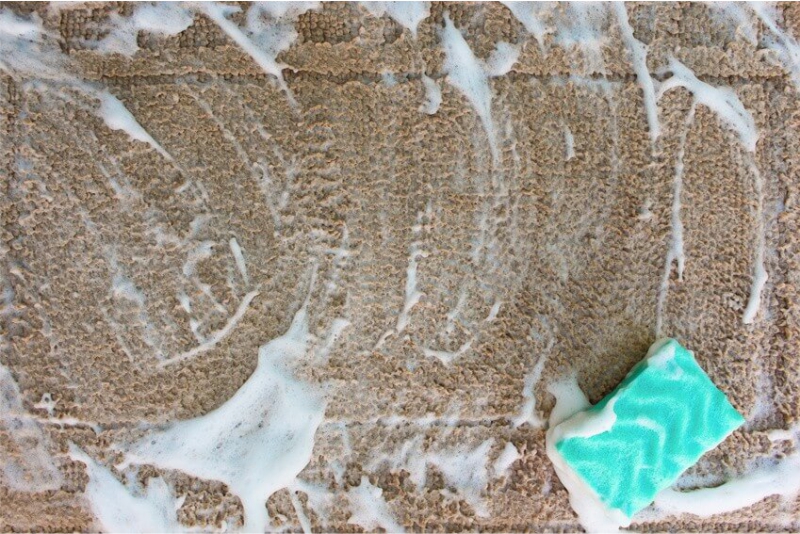 While all-natural cleaning agents are great and most people prefer to start with chemical-free options, some pesky stains require cleaning solutions. There are rug and carpet cleaning solutions designed specifically for getting road salt stains out.
Before using any sort of cleaner on your rug, call your professional rug cleaners. They'll be able to tell you if that cleaner is safe for your rug based on the rug's materials. When in doubt, always call an expert.
If you choose to use a rug cleaning solution, be sure to read the directions carefully. Also, check to make sure that the cleaner is safe for your children or pets if you have any.
Most rug cleaners are designed specifically for car rugs. These rugs tend to get much saltier than indoor rugs since there's no convenient way to avoid getting your wet shoes near these rugs.
Know that rugs in cars have different materials. That's why it's so important to call the experts before adding a chemical to your rug as it could be seriously damaging.
Protecting Rugs from Salt Stains
To ensure you don't get salt stains on your rugs this winter, make a policy that states you don't allow shoes inside. But before you institute the policy, consider how to make it simple for your family.
If you don't have a mudroom, create a space in the garage where you keep your shoes. That way, you won't have to worry about taking them off and carrying them through your house. Even if you aren't wearing them, your shoes could drip while you carry them and leave a mess on your floors and rugs.
Have a pair of slip-on shoes that you use for quick trips outside to take out the garbage or get the mail. This will help make these short trips simpler and easier to do without wearing shoes inside the house at all.
Even with a policy of no shoes in the house, you might find yourself still wearing them in by mistake. Plan for that by removing rugs that are only there for aesthetics. While you'll certainly miss the cozy feel that the rug brings to your home, you'll also rest easy knowing your rug is protected.
Consider replacing runners with carpet scraps and tossing them out at the end of the season. You'll appreciate the ease this brings even in the really rainy spring months in the area.
Once the sun begins to shine more in the summer, you can bring back your fancy rugs. Or, bring out your nice rugs anytime you have company during the winter and spring. Just be sure to ask your guests to remove their shoes before entering the home.
Finally, set reminders on your phone for days with snowy or icy weather. Because many Washington residents aren't used to dealing with road salt, a little reminder on your phone for your arrival time home from work can be just the nudge you need to avoid wearing your shoes in the house.
Professional Rug Cleaning to Remove Salt Stains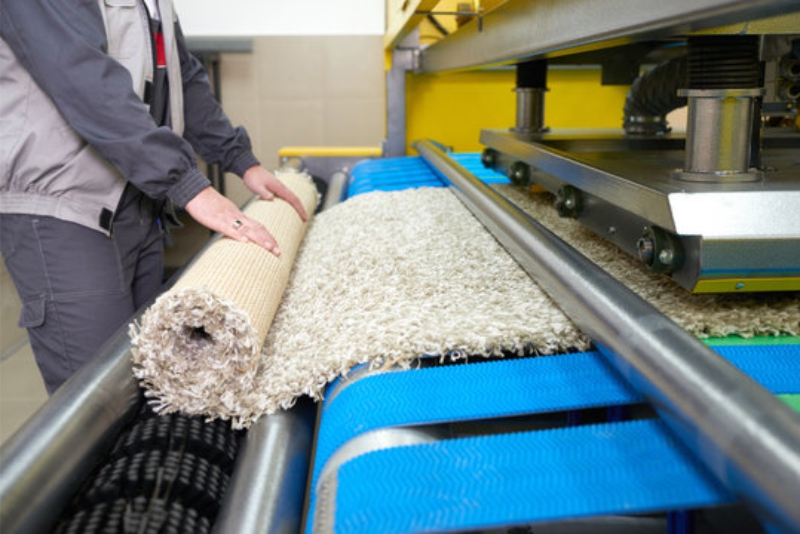 When you can't prevent salt stains on your rugs or get them out on your own, contact your professional rug cleaner. You don't want to let the salt stain set in because you'll run the risk of the stain being permanent.
A Advanced Rug Care offers rug cleaning in Everett, Washington. Just drop off your rug at our facility. We'll then use our specialty area rug cleaning equipment to remove the stain and bring vibrancy back to your area rug. Once we're done, you can pick up your rug and enjoy its new pristine look and feel.
While your rug is in our care, we'll do a full inspection to look for other stains you might have missed. We do a full dry soil removal, which uses a de-dusting machine. And if your rug has a fringe, we'll clean that too.
Then we'll shampoo the rug and thoroughly rinse it so you don't have any leftover shampoo. We groom the rug so that the nap looks good and the fringe is aligned. We dry the rug thoroughly on custom equipment designed to avoid folds, creases or impacts to the fringe.
Once we've given your rug the full spa treatment, two of our technicians go over the rug carefully to inspect it for any spots. We vacuum the rug and then roll or fold it for you to pick up. We can also deliver your freshly cleaned rug to you if you'd prefer.
Get a free area rug cleaning quote now to learn more.
Further reading: