Rugs that lay in high traffic areas of the home are frequently exposed to general wear and tear from foot traffic. However, when you throw pets into the mix, rugs not only experience more traffic, causing an increase in dirt and debris, but also pet hair and the risk of urine soiling the carpet. The best way to combat pet stains and odors is to prevent them, however, there are several ways to clean pet stains and odors, should they be an issue.
Prevent Pet Odor and Stains
You can help protect your rug from pet odors and stains by getting a professional grade protectant applied to the rug, upon purchasing it. Although there are several over the counter options on the market, a professional strength rug protectant will yield the longest lasting results and will be most cost effective in the long run.
3M Scotchgard Formula- This sealant coats rug fibers with Teflon, which protects the carpet from being damaged or stained for up to 2 years.
Microseal Permanent Carpet Protectant- This product uses nanotechnology, to penetrate and seal the individual rug fibers from the inside out, providing permanent protection against stains and damage.
Neutralize Pet Odors for a Proper Area Rug Care
Pet urine contains a bacteria that soaks into the fibers of the rug, causing the ever dreaded pet odor. Pet odors can be combated at home with products over the counter or homemade sprays that neutralize the scent, however, no at-home solution achieves permanent removal. For 100% permanent pet odor removal, the rug must be professionally cleaned. Alexander's Rug Care using an alternative rug bathing process used to combat pet odor breaks down these alkaline salts and removes the odor.
How to Remove Pet Stains from Carpet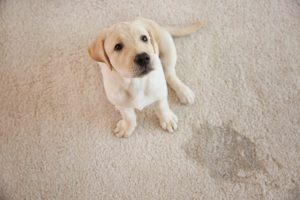 The most prominent type of at-home product to remove pet stains are enzymatic cleaners. Before using any at-home cleaning product on your rugs, be sure to try a "test" spot on the underside or corner of the rug, to ensure that it doesn't cause bleeding on bleaching of the color. If your pet soils the rug, be sure to blot up excess liquid with a clean cloth prior to using the cleaner. Then, follow the instructions on the cleaner bottle. If the stain and/or odor persists after cleaning, you should call a rug care specialist to schedule a professional cleaning.
How to Remove Pet Hair from Rugs
Pet hair can not only damage carpet fibers over time, just as dirt and debris do, but it can also impact the vibrancy and overall look of your rug. Regular vacuuming can help to reduce pet hair, however, too much vacuuming isn't good for a rug either. In this case, a rubber device such as a squeegee or a rubber broom is a great option to collect the pet hair from your rug and remove it. Use the rubber device in between vacuuming to limit hair accumulation.
Related articles
Looking for a Professional Rug Cleaner?