We all love our pets, but our rugs might not feel the same way. Pet stains, shedding, and unpleasant odors can all turn a beautiful area rug into a home décor nightmare.
With a bit of forethought, you can choose an area rug that will withstand pet-related wear and tear. We recommend looking out for the following materials, colors, and cleaning options so you can keep Fido happy without sacrificing a beautiful floor.
Pet-Friendly Rug Materials
For dog and cat owners, stains are a fact of life. Even the best-trained pets can leave stains when they get sick or age. If you have a furry friend or intend to adopt one in the future, you'd be wise to choose stain-resistant materials throughout your home.
Many of the most common stain-resistant area rug materials are synthetics. Nylon, polypropylene, and olefin are all popular choices for pet owners. If you only need a small area rug, consider choosing one that is as labeled machine washable.
If you prefer a natural material and don't have a pet that is likely to claw, consider wool. Wool is naturally stain-resistant and easy to clean, making it ideal for avoiding lasting damage from pet stains. However, a wool area rug may not be the wisest choice for cat owners since it can be ripped up more easily than other materials.
Colors That Hide Pet Stains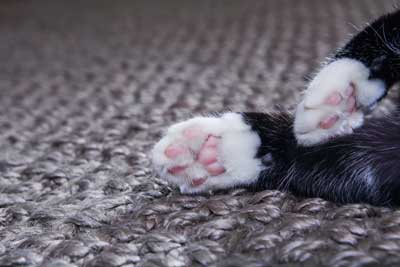 Have you ever noticed how much more pet hair seems to collect on contrasting surfaces? If your pet sheds, it's a good idea to get a rug in a color close to the shade of your pet's hair. Golden retriever hair will be much less apparent on a variegated or textured rug in warm colors than on a solid dark mat.
As with any other décor, bright white tends to show dirt more easily than other colors. A softer or darker shade may be more practical for pets that tend to bring in the mud.
Patterns and color combinations will help you hide stains. The best patterns for hiding stains incorporate variations of same or similar colors, as well as a texture that allows for stain-hiding shadows between fibers. A slight stain will be very obvious in a solid colored rug, but invisible in a rug that already had color variations.
Rug Cleaning and Maintenance to Help Your Home Décor Last
Regardless of which type of rug you choose or pet you have, proper care is vital to maintaining your rug. You will need to regularly vacuum, wash, or at least spot clean your rug and clean up stains as soon as possible. The best cleaning method depends on the type of rug you have.
To help your area rug last as long as possible, we recommend hiring a professional cleaner to perform annual rug maintenance and remove the deep-seated grime and odors that normal cleaning methods can't. At Alexander's Rug Care in Everett, WA, we use an 11-step rug cleaning process to thoroughly but gently clean your area rug. We utilize only the highest-quality rug cleaning equipment, including a Rugbadger™ de-dusting machine to achieve maximum soil removal, and clean fringes by hand.
We also provide rug repair and protection services to help your rug last as long as possible. Our rug protection treatments are safe, hypoallergenic, and non-toxic for your family and pets. We will ensure your rug needs fewer cleanings and lasts longer with regular use, even in high traffic areas.