Nothing ties a room together like a high-quality area rug. The right rug can be the perfect way to blend furniture styles, drapes, technology, and light fixtures into one cohesive theme. But beyond style, area rugs also contribute to the overall comfort of the room, giving you a nice, warm place to put your feet, and a perfect napping location for the family pet.
But what happens when your area rug needs to be cleaned? Dirt, pets, and everyday stains and wear can leave even the best rugs looking dingy and tired. When a vacuum cleaner isn't good enough to handle the task, it's time to turn to the professionals.
The right professional cleaning service can make all the difference, cleaning your area rug without compromising its integrity. However, when looking for a professional up to the task, you will inevitably learn that two options are available to you: rug washing or a carpet cleaning. But what's the difference?
A good place to start is to look at how each service works.
Carpet Cleaning Service
Let's start with the more common service. You can find carpet cleaners just about anywhere, but they tend to be sold as a one size fits all service. Most offer a price per room or charge by the square foot.
These carpet cleaning services use portable or truck-mounted carpet cleaning equipment to clean your carpets and rugs. This is perfect for your regular carpeted space, but most cleaners lack the skills to ensure that your area rugs aren't damaged in the process.
Many types of area rugs, such as Persian rugs and oriental rugs, require special treatment when washed to ensure their quality is maintained. To avoid damaging these expensive rugs, it is important to ensure that they are properly cleaned.
We recommend A Advanced for all your carpet cleaning needs.
Rug Washing Service
While carpet cleaning services are great for your homes carpeting, more skill and attention to detail are needed for delicate area rugs. Rug washing services are a specialized service that takes specific precautions to ensure that your rugs maintain their shape, fiber quality, and color vibrancy.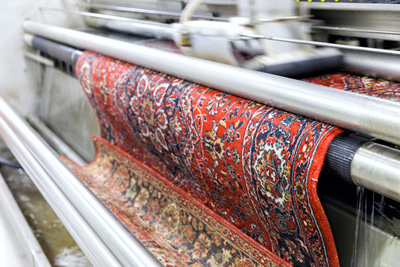 These professionals use both hand and machine washing techniques to preserve the rug's integrity, and deep clean the fibers. This is in stark contrast to carpet cleaners, who generally use just one machine to handle the task of cleaning any carpets or rugs.
In fact, the entire process is different from the rug owner's perspective as well. Where a carpet cleaning service comes into your home to clean the carpet, a rug washing service does the opposite. Companies like Alexander's Rug Care bring your area rugs to their salon (via pick up or delivery), where they clean, repair, and protect your rug with specialized cleaning equipment.
The company will then deliver your rug back to you in pristine condition. From start to finish, rug washing services are a step above and a worthwhile investment in the integrity and quality of your area rugs.
Treat Your Rug to the Good Life
Don't subject your high-quality area rug to a generic, possibly damaging carpet cleaning service. Give your rugs the respect they deserve by hiring a professional rug washing service like Alexander's Rug Care. We guarantee that your rug will be cleaned and maintained under our expert care, before being a return to you in better condition than before. You can trust us to give your rugs the care they require because, at Alexander's, we believe that quality and care go hand-in-hand with high-quality service. Reach out to us to start your rugs on the path to the good life. Reach out to us to start your rugs on the path to the good life.
Related Articles
Looking for Rug Cleaning Services?