Area rugs can help liven up almost any room in your home. One of the advantages of area rugs over carpeting is that area rugs are more versatile, generally have more design and color options and can be more easily switched from room to room as your décor changes.
But, just like carpets, area rugs get foot traffic and get dirty. Another advantage area rugs have over carpet is that they are generally easier to clean. One option for cleaning area rugs is that you can toss them in the washing machine. But is this the best way to clean your area rugs? Not necessarily.
Area Rug Cleaning: The Problems with Using a Machine
If your area rug is 100 percent cotton or polyester and relatively inexpensive – perhaps you use it as a shower or bath mat – machine washing is probably fine. But if your area rug is made of wool, silk, or other delicate fabric, machine washing can cause problems. Here are some of the problems you may face when placing your area rug into the washer.
Color Fading/Bleeding
Just as with your clothes, washing area rugs in a washing machine may cause them to bleed or fade, especially if you wash them in warm water. There are several ways to mitigate color bleeding, but nothing that will eliminate it entirely.
Shortening the Life of the Rug
The mechanical process that helps clean your clothes can also damage the delicate fibers of your area rugs. Many people who buy Oriental or Persian rugs do so with the idea that they will last for generations. The agitation rugs go through during washing can disintegrate an older or antique rug. Even if your wool or silk rug remains intact, it's likely the beating it takes in your washing machine may have left it looking uneven or bumpy.
Destroying the Fabric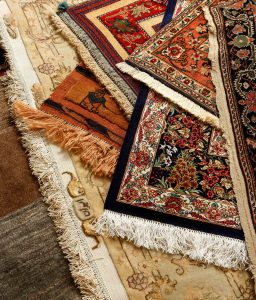 In addition to the beating your washing machine gives delicate fabrics like silk and wool, your laundry detergent may also be wreaking havoc on your area rugs. Wool and silk, unlike cotton or polyester, are made of up largely of protein. Many of today's laundry detergents have enzymes, including proteases, which are used to break down proteins.
These enzymes are added to help remove stains, but your laundry detergent can't tell the difference between a bloodstain and the wool in your rug. The protease enzymes in your laundry detergent – included to remove stains – end up destroying the fabric of your favorite area rug.
How to Properly Clean Your Area Rug
To help ensure your area rug keeps its proper color, shape, and texture, it pays to have it professionally cleaned. At Alexander's Rug Care, we go through an extensive process that protects your area rug, while cleaning it thoroughly. Because most area rugs are made of tightly woven fibers, they tend to trap dirt deeper into crevices than a carpet would. To free this tightly trapped dirt while preserving the integrity of your rug takes the expertise that only a professional area rug cleaner can provide.
The Alexander's Advantage
At Alexander's Rug Care, we use a gentle, yet thorough, cleaning process that maintains the beauty and character of your rug, while eliminating dirt, stains, and odors. We start with a comprehensive inspection of your rug, noting all spots, stains, and areas of concern. Our cutting-edge equipment is designed specifically for the cleaning of high-quality rugs, so they will last for generations.
One of the pieces of equipment we use is the RugBadger, which gently removes the deeply embedded dry dirt found in most area rugs. We color test your rug to make sure it won't bleed or fade. We shampoo, rinse, groom and dry your rug and then do an inspection before we vacuum the rug one last time. We even clean your rug's fringe by hand! Best of all, we can arrange for pickup and delivery of your rug, so you don't even have to leave your home.
Related articles
Looking for a Professional Rug Cleaner?